What else do you expect from a government statistician but statistics for the government – Chairman of NAGRAT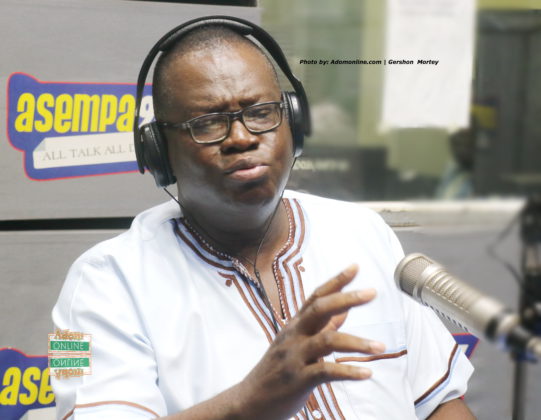 President of the National Association of Graduate Teachers (NAGRAT), Angel Carbonu
National Association of Graduate Teachers (NAGRAT) President Angel Carbonu says the government statistician's comment about public sector workers being overpaid falls short of what is expected of a person of his caliber.
He argued the comment smacks of Professor Samuel Kobina Annim doing the government bidding, especially at a time when public sector workers are fussing over wages.
Mr. Angel Carbonu claimed that this comment was simply aimed at calming the recent unrest of public sector workers over wages.
"When you have a title called government statistician, then he does statistics for government and what else do you expect government statistician to offer, statistics for government.
"And when the government has its back against the wall, especially in these times when wage and income unrest is on the rise, then you have such statements made to stifle and chill the atmosphere in such a way that in, you go to negotiations and that you are not even going to the negotiations with the force that they deserve.
"The fact that as a professor at the university and that he hasn't even given us a reference instrument used or research at his disposal that we can all submit to, then for me this is in below what we expect from a teacher," Angel Carbonu told Evans Mensah on Featured Story, Monday.
The NAGRAT Chairman further questioned the approach of the government statistician to come to such a conclusion.
He felt that the statistician's claims are strange because many public sector workers earn less than GH¢1,500 as salary.
"Taking the total sum of money paid by the government and dividing it by the number of workers in this country and arriving at a figure is a very strange way of determining the wages of workers.
"The vast majority of public sector workers in this country earn less than GH¢1500. If you're talking about CEOs and political appointees who are latter-day public servants, earning thousands of dollars, then that's a different story," he explained.
Government statistician Professor Samuel Kobina Annim said last Thursday that public sector workers are generally overpaid for the work they do.
He said that on average, public sector workers are paid double for their production.
He therefore called for the establishment of a Public Productivity Committee of Parliament to work as the Public Accounts Committee and ensure that Ministries, Departments and Agencies (MDAs) and the public sector, in general, deliver an output proportional to their income.
Delivering his inaugural lecture at the University of Cape Coast last Thursday, Professor Annim said that while earnings averaged around GH¢3,420 for public sector workers, output in the sector averaged about GH¢3. around 1,420 GH¢, less than half of the income.
"What people earn should be equal to their output and equal to what they spend," he said, adding that there was fundamentally something wrong and such a gap should be met in the country's quest for true development.