Robinson, the Vikings rally to the Raiders | Slide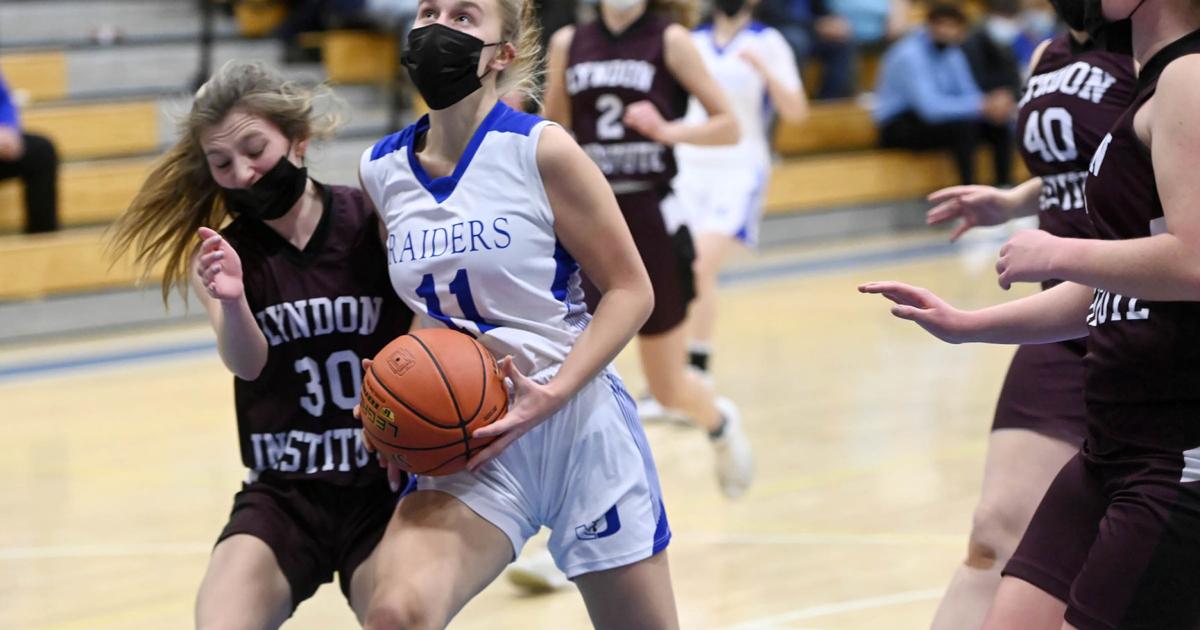 MONTPELIER-EST – Lyndon's Brooke'lyn Robinson scored 13 points in Thursday's third quarter and the Vikings held the U-32s scoreless for the first six minutes of the second half while rallying to a win of 52-39 in women's basketball.
Robinson finished with a high of 28 points, which is more than half of his team's offensive production. Olivia Hogan scored 11 points for the Raiders 0-4, who had nine players in the scoring column.
The first quarter was a defensive battle before Hogan conceded a 3-point lead for a 3-0 lead with 5:45 on the clock. A steal and layup from Caitlin McGinley resulted in a timeout for Lyndon with 3:18 on the clock. Hogan went 2 of 2 from the line with 2:55 left in the quarter, extending the lead to 7-0.
Robinson hit a 3-runner on the right side with 2:14 left in the first quarter. Cara Richardson's baseline jumper was 9-3 on the next possession. Sun Meehan scored a 3 point before Robinson responded with a long range shot. Caroline Flynn finished the quarter with a free throw, giving the Raiders a 13-6 advantage.
Olivia Lewis provided an immediate spark for LI with old-fashioned three-point play to kick off the second quarter. Kadienne Whitcomb's 3 points out of the glass reduced the deficit to 13-12 with 7:40 on the clock. Robinson showed his moves along the baseline for a layup and a 14-13 lead. Flynn's 3-point pushed the U-32 back ahead, 16-14.
Hogan capitalized on his strong inside moves to bolster the U-32's lead before Molly Renaudette responded for LI, closing the gap to 18-16 before the last three minutes of the first half. Hogan added a free kick and McGinley capped a play three points from the foul line, taking the lead to 22-16. McGinley assisted Hogan for a weak side layup in transition to a 24-16 cushion with one minute remaining in the first half. A rebound and a Robinson layup sent the Vikings to halftime 24-18 behind.
Lyndon won in the third quarter, scoring 11 unanswered points. Emma Renaudette moved 1 of 2 off the foul line before Robinson hit a 3 point and jumper, tying the score at 24. Robinson drained another 3 points, then put on a show with his explosive speed for a quick layup and a 29-24 advantage.
Clara Wilson's midrange jumper helped U-32 keep things tight at 29-26, although Robinson quickly countered with another 3 points. The Raiders grabbed four straight offensive rebounds in the closing seconds of the third quarter and Natalie Beauregard finally scored, reducing LI's lead to 32-28.
Robinson went 2 of 2 from the line and Delaney Raymond added an old-fashioned three-point game for a 36-28 lead with 7:00 left in the fourth quarter. Molly Renaudette served an out before Robinson's lean in the lane fell out of the glass and through the cylinder, making it 40-28.
Lewis, Robinson and Emma Renaudette scored again to help LI keep her foot on the gas while leading 46-30 midway through the fourth quarter. Raymond added a free kick for the Vikings before Hogan and Melinda Laquerre scored for the U-32, prompting the Vikings to request a time out with 1:45 remaining.
Emma Renaudette scored in transition after the short break before Natalie Beauregard scored four quick points for the U-32. Adrianna Hever took a candid shot for the Vikings and Emma Renaudette scored again. Natalie Beauregard added a late basket for the Raiders, who will host Lamoille at 7 p.m. Tuesday.
GIRLS BASKETBALL
Spaulding 54, Lake Region 48
ORLEANS – The Crimson Tide outscored Rangers 15-4 in the final eight minutes to claim a victory from behind in Thursday's Capital Division action.
Spaulding led 14-10 after the first quarter before Lake Region took the 28-23 lead at the end of the second quarter. The Rangers finished the third quarter with a 44-39 advantage.
Sage MacAuley finished with 15 points to keep pace with the tide. Her teammates Emily Poulin (11 points) and Autumn Lewis (nine points) were also crucial contributors at both ends of the floor. Sakoya Sweeney (19 points) and Maya Auger (10 points) led the Rangers.
"We slowed down in the second half," said Spaulding coach Tanya MacAuley. "We had a hard time when we lost our pace and we let the other teams dictate our pace. And that's kind of what happened in the second quarter. We came out in the second half ready to regain control of the ball and our boxing was excellent. Aliyah Elliott and Autumn Lewis were huge for us on the stage. We did a good job pushing the ball to the ground. But also slowing it down if we didn't have a quick layup was key for us.
Spaulding (2-3) will travel to play Harwood at 7 p.m. Tuesday.
Oxbow 59, Randolph 21
RANDOLPH – Maggi Ellsworth (16 points) and Abigail Carson (nine points) led the way on Thursday for the Olympians, who closed the 2021 part of their schedule in a winning way.
Abby Garbin scored seven points for the Ghosts, while teammates Harmony Bradshaw and Paige Allen added six points each. Eleven players played for Oxbow, who led 16-2 after the first quarter. The Olympians were leading 32-5 at halftime after limiting the Ghosts to zero field goals in the first two quarters.
"We have new players in the game and they've gotten to work," said Olympians coach Barry Emerson. "They worked hard in training and deserved it."
Oxbow (3-4) will host Peoples Academy at 7 p.m. Thursday.
"Randolph struggled and they were struggling to score," Emerson said. "They are rebuilding and there are a lot of freshmen on this team."
Thetford 33, Peoples 27
THETFORD – The Panthers rallied Thursday night to hand Wolves (6-1) their first loss of the season.
Thetford's top scorers were Madi Mousley (10 points), Whitney Lewis (seven points) and Kelsey Bogie (six points). Shelby Wells (nine points) and Emma Courtemanche (six points) led the Wolves.
Thetford scored two runs at 3 points and finished 5 of 11 from the foul line. Peoples connected on five 3-pointers and missed their only two free throw attempts.
"It was a close match throughout the game," said Thetford coach Eric Ward, who celebrated his birthday with a victory. "People led most of the game (and) we changed our defense with us trailing 27-23 with about 3:30 left in the game. We ended the game 10-0. Kelsey Bogie hit a 3 to put us by one and another to put us by four. Whitney Lewis and Madi Mousley went 4 for 4 at the last minute to freeze the game. It was total teamwork. I am very happy with the girls.
The Panthers (3-2) will travel to face Montpellier at 7 p.m. Tuesday.
Williamstown 40, Danville 22
DANVILLE – The Blue Devils outscored the Bears after Thursday's break to head into the New Year with a 5-0 record.
Paige Dwinell scored a high 20 points to almost single-handedly dominate Danville. She scored 11 points in the first half for the Blue Devils, who led 8-4 after one quarter and 14-12 after two.
Williamstown opened up a 29-19 lead in the third quarter before keeping the Bears scoreless for most of the final quarter. Laci Potter finished with a team record of five points for Danville.
GYMNASTIC
Saint Johnsbury 128.55,
Montpellier 123.35
WATERBURY – Solons star Evelyn LaCroix took all-around honors with a score of 37.65 in a close loss to the Hilltoppers at Central Vermont Gymnastics Academy.
Lizzy Jones of St. Johnsbury was second in the all-around at 36.4. Eva Stumpff (30.45) from Montpellier finished third.
Leading in the vault were LaCroix (9.45), Jones (9.1) and Anna Cushing of St. Johnsbury (8.5). LaCroix also triumphed on bars after registering a 9.3. Jones (9.0) was second, while Cushing and fellow Hilltopper Zoe Glentz Brush were tied for third with identical scores of 7.0.
LaCroix won on beam with a 9.3. She was followed by Cushing (9.0) and Jones (8.95). The best players on the floor were LaCroix (9.6), Jones (9.35) and Hazen's Lydia Hall (8.8).
"We were focused on having fewer falls on the beam and making sure we were meeting the demands of our routines," said MHS coach Shannon LeBoeuf. "We dealt with injuries and illnesses at the start of the season and we continue to overcome them as best we can, so everyone has stepped up to help the team in any way they can. We've had strong overall performances from first year Evelyn LaCroix and senior Eva Stumpff, who landed her debut from the helm this season. I am very proud of their performance and can't wait to go back to the gym to work on their routines even more. I am also very proud of their sportsmanship and their spirit.
Montpellier will return to action against South Burlington and Burlington-Colchester on January 8.