JCE – A CEF that does what it's supposed to (NYSE: JCE)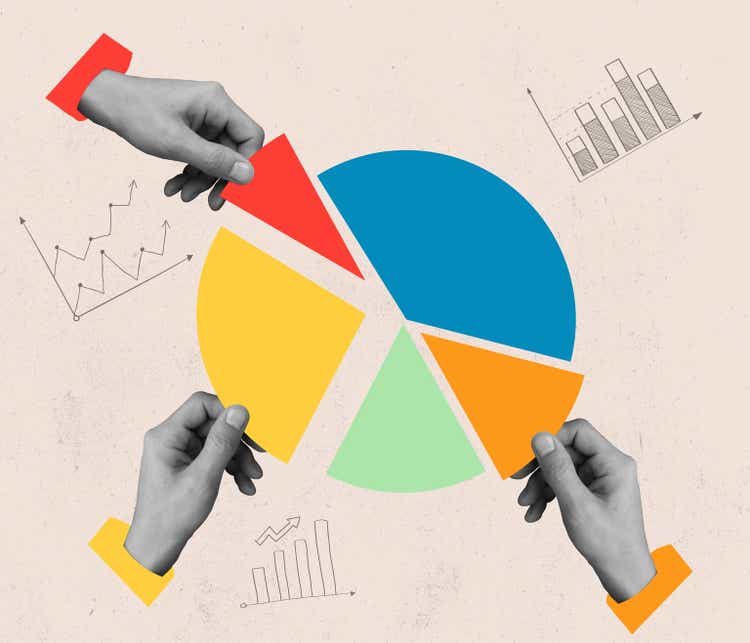 Thesis
Nuveen Core Equity Alpha Fund (NYSE: JCE) is an equity-focused closed-end fund (CEF). The investment objective of the vehicle is to provide a high level of total return. JCE focuses on large-cap stocks that fall into the Morningstar "Large Blend" and currently holds 154 names in its portfolio.
What is very specific to this CEF actions is its ability to sell call options with a notional value of up to 50% of the fund's equity portfolio. The fund currently has a written call option coverage of 28%. Additionally, JCE is one of the few equity CEFs that actually delivers on its mandate of turning equity returns into high dividends by closely tracking the S&P 500 from a total return perspective. On a 5-year basis, JCE is up +98.55% vs. 111.69% for the S&P 500. In this space, we have seen many CEFs of stocks severely underperforming the index on a total return basis and are really grabbing the attention of investors via high dividend yields. .
The fund shows good long-term analyses, with high Sharpe and Sortino ratios and drawdowns capped at -15% in normalized economic environments. However, the vehicle is currently expensive from a CEF structure perspective, with a 6.86% premium to NAV and a very high z-stat of 3.15. We have seen the premium to the net asset value exhibit very high volatility over the past year, alternating between a discount and a premium to the underlying net asset value. We believe this is due to the written call strategy, which tends to offer high premiums when volatility is high (measured by the (VIX) for stocks) and is therefore valued as such by investors.
JCE is a strong and robust fund that has historically done what an equity CEF should – turn capital gains from stock indices into regular dividends for investors. The fund has demonstrated the strength of its management team and its 5- and 10-year returns with attractive risk/return parameters. Nevertheless, JCE is now expensive, currently trading at a very high premium to NAV of 6.86% from a historic stable to negative discount to NAV. For retail investors who already have this name in their portfolios, this CEF is a Holdwhile new funds seeking to enter the space would be well served to wait for a normalization of the premium to NAV.
Analytic
AUM: $0.28 billion
Yield: 9.06%
Premium to NAV: 6.86%
Z-Statistic: 3.15
Sharpe: 0.79 (5 years)
Standard deviation: 14.85 (5 years)
Sortino ratio (upper ratio): 1.2 (5 years)
Assets
JCE is a closed-end equity-focused fund with 154 holdings:
The fund focuses on the Large Cap / Blended category as highlighted by Morningstar.
The fund is overweight in the technology sector.
Compared to the S&P 500, the fund is overweight technology and underweight financials.
The fund's top ten holdings make up nearly 30% of the fund. They represent well-known names in technology, healthcare and finance.
From this point of view, the fund is quite concentrated via its main holdings, which represent a third of the fund.
What's interesting about this fund is the fact that the CEF monetizes long-term equity gains through a written call option strategy in addition to outright selling. A common stock CEF typically distributes its dividend by selling stocks that have recorded capital gains and thereby monetizing those numbers in order to have the cash to distribute for the dividend yield. If actively managed, the option overlay strategy allows for a similar type of monetization with the addition of volatility monetization. This means that when volatility is high, a written buy strategy may result in a higher overall price than a straight sell at the price of a stock holding. The option overlay strategy correlates well with the large-cap nature of the portfolio, allowing for significant liquidity throughout the options chain.
Performance
JCE is one of the few stock CEFs that truly gains its value via a high performance correlation to the underlying index, which is the S&P 500.
We can see that on a 5 year basis, the fund shows a total return almost identical to that of the S&P 500. Note that due to its CEF nature, JCE distributes via yield capital gains while the S&P 500 does not has an increasing net asset value. However, in this space, we have seen many CEFs of stocks that heavily underperform the index and really grab investors' attention via high dividend yields, when in reality a retail investor would be better served. by simply buying the index.
JCE even outperformed the index in 2018 for a long time. You can see the same kind of performance even on a 10-year basis.
This is a solid fund with a capable management team that has proven over time its ability to employ a viable and quantifiable strategy that turns long-term index gains into quarterly dividends.
Premium/Rebate to NAV
The fund has historically traded at a slight discount to net asset value.
We can observe that over the past decade, outside of 2021 and 2018, the fund has always traded at a discount to NAV, which has averaged between -3% and -7 %. The zero interest rate environment in 2021 brought a premium to NAV. What is surprising is that in the current environment, where the Fed is on an aggressive tightening trajectory and where we have seen the premiums to the net asset value of many CEFs evaporate, JCE is still trading at a premium of 6.86%. We believe this is not in line with historical events and the market will revert to a flatter premium to NAV or an outright discount.
We can see significant volatility associated with the discount/premium to the fund's NAV over the past year, with the market seemingly pricing in the volatility component associated with the written options strategy.
Conclusion
JCE is a closed-end fund focused on large-cap stocks. The fund also has a mandate to write call options and currently 28% of its portfolio is comprised of this options strategy.
JCE impresses with its robust historical returns and its ability to closely track the total return of the S&P 500 on a 5- and 10-year basis. We have seen many CEFs in this space fail to achieve this basic principle while charging high fees to investors.
JCE has strong analytical and risk-reward metrics, but currently has a very high premium to NAV. We think it will come back to a flat level or a NAV discount. For a retail investor who already has the name in the portfolio, this CEF is a Holdwhile new funds seeking to enter the space would be well served to wait for a normalization of the premium to NAV.