AngioDynamics Stock: Progress Despite Margin and Pandemic Challenges (NASDAQ: ANGO)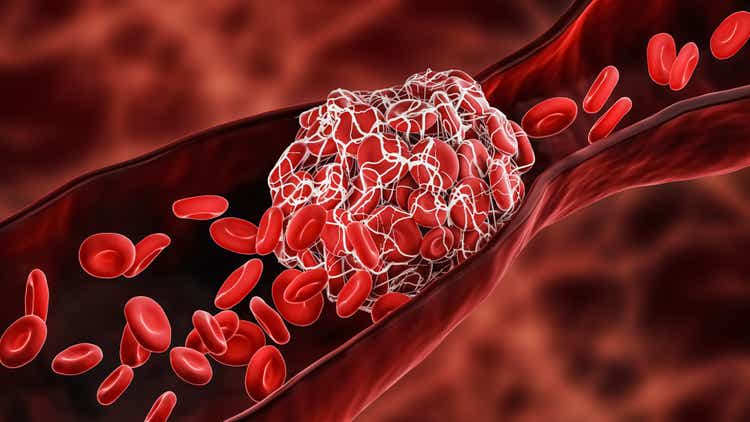 Between the surge in hospitalizations related to the COVID-19 pandemic and the rising costs/decreasing efficiencies of manufacturing and shipping operations, the past six months have been challenging for AngioDynamic (ANGO). This is reflected in the stock price, which is down about 16% since my last update, underperforming the S&P 500, but not doing all that badly compared to other small medical technologies. in similar markets (including names like Cardiovascular systems (CSII), Inari (INRA), and Penumbra (PEN)).
At this point, AngioDynamics remains a "demonstration story"; Management must show that it can generate significant revenue growth from its "Med Tech" portfolio, while generating reasonable cash flow (or sale proceeds) from slow-growing legacy businesses that represent approximately 75 % of revenue base.
The lower near-term margin outlook does not help, and AngioDynamics risks being stuck in an investor "no man's land" between insufficient revenue growth to attract interest from "emerging/established growth" investors. " and inadequate margins for more value/FCF-oriented investors. That said, I think the valuation is attractive for more risk-oriented investors.
Growing businesses keep growing
Although the recent COVID-19 surge appears to be easing, it has resulted in a new round of postponements and cancellations for non-essential procedures, and this includes some areas important to AngioDynamics like thrombectomy, atherectomy and treatment cancer. Even so, AngioDynamics saw 36% year-over-year growth in its growth-focused "Med Tech" portfolio, while the more stable "Medical Devices" portfolio grew at a much more modest rate of 1%.
In total, AngioDynamics increased revenue by nearly 8% in the quarter, more or less in line with expectations. AngioVac remained a star with strong double-digit growth (up 21%), and Auryon grew 201% year-over-year from a low base and 7% sequentially with continued increases in placements at laser (up 21 qoq to 226) despite continued challenges with in-person sales efforts. NanoKnife revenue was down 17% due to lower capital goods sales, although probe revenue (which is based on the number of procedures) was up 9%.
Within medical devices, weak results in venous insufficiency (down 9%) and oncology (Solero down 3%, Alatus and IsoLock down 7%, RF down 29% and BioSentry up 4%), were not too surprising, although the 12% growth of PICC and the 9% growth of ports were positive.
Margins were less positive, with gross margin down 340 basis points year-on-year, while AngioDynamics came in around 250 basis points below Street's previously lowered expectations due to a multitude negative factors. Management estimated the negative impact of labor and manufacturing issues (including sickness-related absenteeism and labor shortages) to be nearly two points, and 70 basis points additional negative pressure from input and freight cost inflation, as well as start-up costs for the growing AngioVac and Auryon businesses.
Margin pressures are not going away quickly
Management has lowered its expectations for the second half of the year due to these continued pressures on margins. While absenteeism due to illness is expected to improve and management is increasing capacity at its manufacturing facility in Costa Rica, I don't think the pressures on supply and shipping costs are expected to ease. soon, and I see limited opportunities to offset these pressures with price. Additionally, even if management wanted to offset labor availability and cost pressures with more automation and/or offshoring, it takes time to implement.
The growth story remains credible
Key to the longer-term performance of AngioDynamics' stock is management's ability to execute on the three main growth businesses – AngioVac, Auryon and NanoKnife.
Of the three, I remain the least concerned about AngioVac's prospects. The use of instruments to remove clots (as opposed to drugs) is gaining traction with more physicians, not only as the tools have improved, but also as the costs of bleeding and other effects drug-related side effects become more expensive.
I would also like to note that since my last update, two of the majors have taken steps to expand their thrombectomy offerings, with Scientific Boston (BSX) buying Devoro and Abbott (ABT) purchasing Walk Vascular. Greater competition from well-established players isn't great in isolation, but it's a large, underpenetrated market and these larger players can increase brand awareness.
Within the AngioVac business, management recently launched its new F22 catheter (which targets a $300-400 million market, primarily in the upper extremities), and still plans to launch the F18 catheter during for the next six months or so. This latest catheter will bring $1 billion in addressable opportunity in deep vein thrombosis (ilio-femoral and popliteal), and will also bring into play a larger pulmonary embolism market, although this indication will require clinical study.
When it comes to Auryon, while long experience has taught me to be skeptical of medical lasers, especially in peripheral atherectomy, AngioDynamics seems to have a better mousetrap over Phillips (PHG) (the former Spectranetics company) and past attempts. It's still a small company, but even a relatively small total market share could mean big revenue for AngioDynamics.
Finally, there is NanoKnife. It's been one of AngioDynamics' future growth drivers for more than a decade, but the company at least has ongoing clinical studies, including studies in hard-to-treat pancreatic cancer and prostate cancer. . While I believe the regulatory and commercial burden will be lower for pancreatic cancer, success in prostate and liver cancer could generate revenue opportunities in the hundreds of millions of dollars, although it will take several years to develop.
Perspectives
Compared to the street, I've been more conservative with AngioDynamics' growth expectations, more due to caution around "mature businesses" than lack of confidence in growth opportunities.
That said, while I'm bullish on AngioVac, there is increasing competition, not only from big players entering the space through mergers and acquisitions, but also from other companies like Inari and Penumbra. I still think Auryon is a "show me" story; one with potential, but where there is a lot of resistance built into the underlying technology that the sales effort will have to overcome. NanoKnife is a tougher call, and one that will be largely shaped by clinical data in pancreatic, prostate and liver cancer.
Whether or not we've seen the last of the COVID-19 disruptions is beyond my ability to predict; while the push for the omicron variant seems to be waning, time will tell if another variant will take its place. So while I'm optimistic about Med Tech's growth prospects and see opportunities for medical devices to outperform (as in PICCs), there are always risks in the short term.
On margins, I'm less optimistic in the near term, simply because I don't expect supply pressures to ease and I don't see much opportunity to meet the challenges of labor, manufacturing and cost. Longer term, as growth businesses like AngioVac and Auryon grow and mature, margins should improve, and I believe low to mid double-digit FCF margins are possible going forward.
The essential
AngioDynamics doesn't look particularly cheap on earnings or discounted cash flow, and that's not unusual for small-cap medtech. With this, the market tends to price these stocks based on earnings growth; while I don't expect AngioDynamics to go into double-digit growth (where the multiples really go up and stocks get more attention), mid-single-digit growth should be good for a multiple closer to 3.5x forward earnings, or a fair value closer to $30.
"Should" is the operative word here and a key concern – small medical technologies that cannot post double-digit revenue growth, and especially those without established profitability, often tend to "drift" for long periods of time, and I do fear that AngioDynamics is a bull trap on this basis.
For patient investors who think they've seen the worst of the pandemic-related disruptions, this is a name to consider. I'm optimistic about the outlook for AngioVac and Med Tech in general, and I think the stock price doesn't price in a particularly bullish scenario. That said, even better revenue growth and/or improved margins may be needed for these stocks to trend more positively on a sustainable basis.